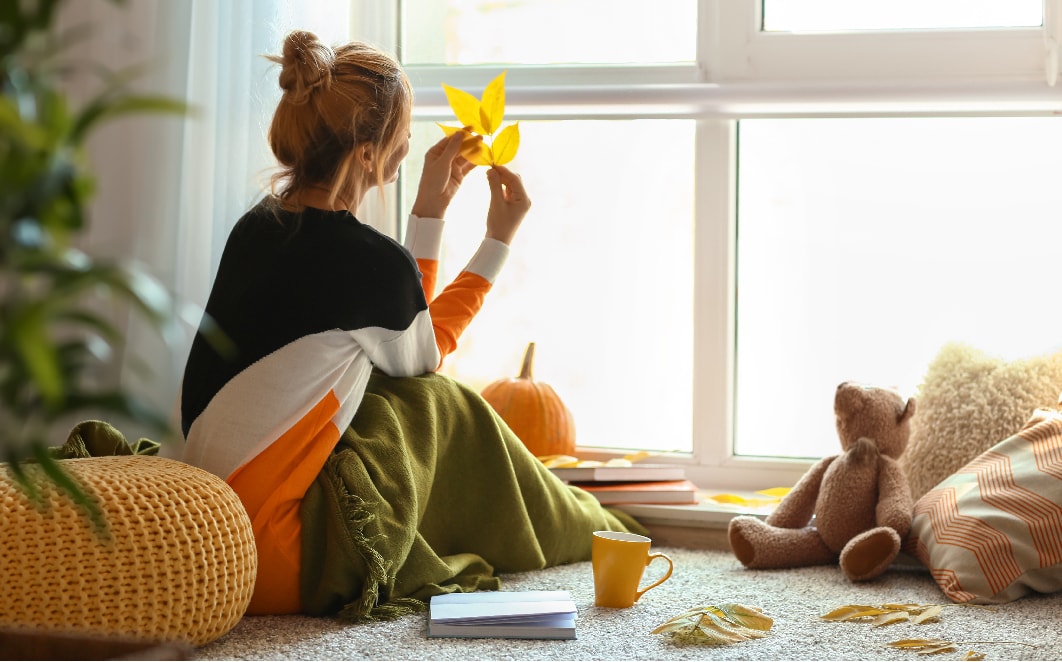 10 Stylish & Sustainable Fall Decorating Ideas
As the seasons change outside, the design of your home should subtly reflect that inside. Fall  decorating is all about adding warmth and expressing your style. The warm, earthy colors, the richer textures and scents should slowly invade your living room, bedroom and patio to invoke that cozy feeling that we all love. Decorate your home for autumn with unexpected colors, fall florals, and piles of warm blankets. 
Here some fall decoration items that will give your home a warm and cozy feel.
Use cozy blanket in new ways. Who says a blanket can't be used as a table cloth? I love the cozy, warm feel of this plaid lap blanket turned table dressing. If you're looking for this look you can find beautiful blankets on Amazon. I would recommend this cream artisan made, 100% turkish cotton by The Loomia Store or, for darker tones, this scotish new wool throw by Prince of Scots.
To add some warmth to your home layer some rugs. A vibrant rug brings depth to your house any time of year; one that includes colors like dark pink and navy will bring a fall-ready feel. As a suggestion you can take a look at nuLOOM handmade rugs. Crafted with love and care, these hand made rugs carry the spirit of the artisans that made them and are the perfect touch for that boho cozy decor.
Add texture to any interior with a stylish throw blanket—whether hung from the back of a lounge chair, laid along the end of a bed, or tossed on the arm of a sofa. This oversized 100% slub cotton throw with pom poms by YaYa&Co is made of natural fibre and it is made in a fair trade environment, mainly focused in the empowerement of women.
Fall candles add the perfect touch of autumn to your home. Candles are often underrated when it comes to home decor. They create light, if you get the right ones, they can smell like heaven and they also create a romantic  and a relaxing environment. For fall I always go for pumpkin spice – I love this one from Wax & Wit – or the amazing Goji Tarocco Orange fragrance by Voluspa.
For a rustic tablescape, get some elegant cloth napkins and add a ring like the Twisted Brass Napkin Rings from Ten Thousand Villages, a brand that supports local artisans around the world through fair trade.
Warm up your bed with myMerino Topper by Sleep&Beyond. Made of certified organic merino wool fibers, myMerino Topper serves as a superior body temperature regulator. Besides the quality products, Sleep&Beyond has zero waste and gender equality policies in all their production line to ensure the protection of our planet and society.
 I love the combination of cream and orange that pumpkins bring to our home so I love to decorate my home with pumpkins platters, bowls and trays. There's plenty of interesting pumpkin decor offers on Amazon this year so I invite you to take a look.
Brighten your front door with a leaf wreath. If you're thinking about how to celebrate autumn this year and transition your home for the season, don't forget the small design details, like a wreath, that can make a major impact. Dressing up your front door can boost your home's curb appeal and even make your interior more stylish. Embrace the beauty of nature with this simple leaf wreath that showcases a pretty medley of oak leaves by the Nested Fig a Home & Garden Lifestyle Boutique. You can also DIY with some recycled material.
Place pumpkins in unexpected places. This lifelike collection of pumpkins are ideal for use in seasonal displays and decor.  Inspired by pumpkins grown in the South of France, the collection features six different shapes and sizes in a variety of soft autumn hues. Even this less-trafficked corner feels comfy thanks to the addition of a few pumpkins.
Add a warm coffee table to your living room to add some warmth. I love this coffee table from Simbly, a sustainable brand. It's sleek, modern and minimalist and fits in a variety of home décor styles. Simbly products are made of sustainably harvested, FSC certified Appleply, a premium hardwood plywood and with formaldehyde-free, non-toxic adhesives and finishes. 
—
Have fun decorating! Fall is such an amazing time of the year! 
If you loved these simple ideas as much as I do and want to know more about fair trade and sustainability, I invite you to follow me on any platform you are more active on: Pinterest, Facebook, Instagram.
Let me know if you have any questions, in the comments below.
Did you find this post useful? Save THIS PIN below to your FALL DECOR board on Pinterest and check it later at any time!